February Lust List
February is my favourite month after December, probably because its the month that has my Birthday, Valentines Day and Shrove Tuesday in it. After all that means presents, hearts and pancakes-whats not to love? I love that V-day brings a bit of colour to social media feeds away from the cold and dullness of January and here are the things that are on my Lust List for this month...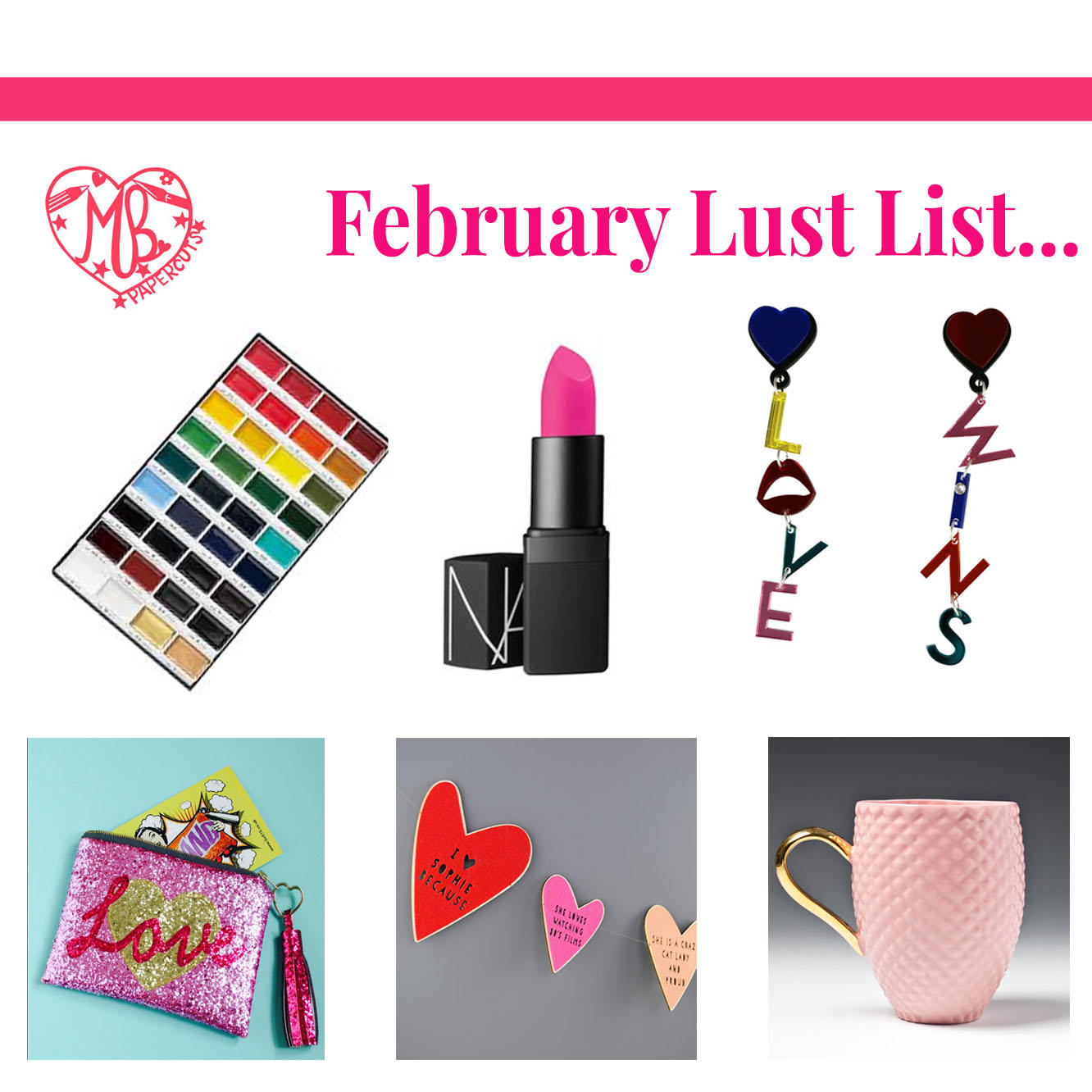 Clockwise, from left;
First up is this Japanese watercolour paint pallette from Jacksons. I really enjoyed working on my watercolour paper cut prints and I have some new ideas I want to play with so they are perfect albeit slightly on the pricier side.
I am a coveteur of lipstick but I haven't been bold enough to try Nars 'Schiap' yet. Having three babies in four years has hammered my body-and my confidence- but I feel like I am heading back to my old self and this is the perfect intro for me to do so!
Likewise, anyone who knows me knows that I am a bit of a big-earring Pat Butcher, and these utter delights from Jennifer Loiselle are only £25 too!
I first found out about SOS15 on Instagram aaagggeees ago and pretty much every lady from Aunties to Mum have one of her bags. So it only seems fair, I get to join the club?! Pink, Red and Personalised please!
Connie Clementine is literally a felt fairy queen and this personalised love story heart banner gives me ALL THE FEELS. I don't know if my typically-British-emotionally-nonverbal husband has got it in himself to get me one, but I could always get one for myself, right?
Finally, I would really like a pink ceramic mug or teacup. I adore this pineapple one from Kina Ceramics but I'm not impartial to something vintage either.
Whats on your February Lust List?